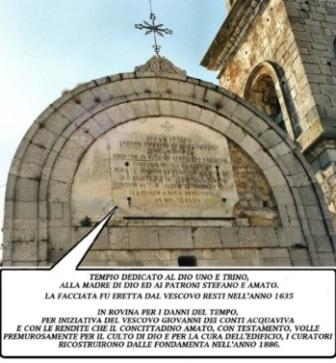 Vista la disponibilitā dei cittadini, vicini e lontani, per il restauro, completato, dell'orologio in piazza De Santis, l'associazione AMICI DEL CENTRO STORICO ha deciso di continuare la sua attivitā con iniziative analoghe. Prossimo traguardo č la rimessa in opera della scritta in latino sulla facciata della Cattedrale.
Given the willingness of citizens near and far, for the restoration of the clock in Piazza De Santis, the association AMICI DEL CENTRO STORICO has decided to continue its activities with similar initiatives. Next goal is the restarting of the work written in Latin on the facade of the Cathedral.
La raccolta fondi pertanto continua
Vuoi partecipare anche tu ?
Do you want to partecipate?
Invia un bonifico bancario utilizzando i seguenti dati
Send a bank transfer using the following data
CODICE BIC / SWIFT BROMITRDXXX
IBAN IT 18 Y 03002 22102 000003761277
UNICREDIT BANCA DI ROMA - CASTELLAMMARE DI STABIA
Beneficiario Beneficiary: SERGIO EBREO
CAUSALE : PRO SCRITTA CATTEDRALE - NUSCO
Cause: WRITTEN PRO CATHEDRAL - NUSCO
Potrai seguire l'andamento della raccolta e dei lavori
You can follow the progress of collection and the work
Il comitato ti ringrazia
The Committee thanks you